ProWorks® Nitrile Exam, PF, Blue, 3 mil
Made from synthetic rubber or butadiene

Latex Free

Thickness: 3 mil

Excellent comfort and feel

Beaded Cuff; finger textured

Standard: Meets ASTM D6319
Industries Most Common To Use
Patient examination, Dental, Any general purpose and light duty industrial application, Food Service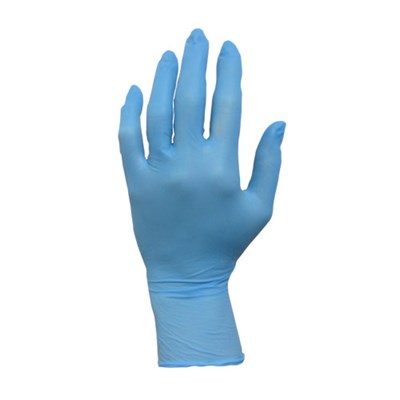 Product Details
| | |
| --- | --- |
| Brand | ProWorks® |
| Color | Blue |
| Grade | Exam |
| Certification | Meets ASTM D6319 |
| Glove Thickness, (mil) | 3.00 |
| GTIN ITF-14 | 10075289103022 |
| Lot coding | Y |
| Powder/Powder Free | Powder Free |
| Sterile | No |
| Country of Origin | MY |
| Full Product Description | ProWorks® Nitrile Disposable Exam Gloves, Powder Free, Blue, 3 mil, Large, 100/box, 10 bxs/cs |
| HTS CODE | 4015.19.05.50 |
| NMFC | 156600S8 |
| Selling UOM | case |
| Sell UOM Weight (lbs.) | 8.60 |
| Sell UOM Length (inches) | 10.25 |
| Sell UOM Width (inches) | 10.15 |
| Sell UOM Height (inches) | 9.45 |
SHADOW® Nitrile Exam, PF, Black, 6 mil
Nitrile, Examination Grade
Powder Free
Thickness: 6 mil

Ambidextrous

Single Use Only

The black color also helps rapidly identify potentially unsafe light-colored substances.
100 per box, 90 per XL & XXL box (by weight)
Industries Most Common To Use
Automotive & Aerospace, Tattoo & Piercing, Corrections & First Responders, Industrial & Manufacturing, Safety, Mortuary, Contractor Supply, Oil & Gas, Healthcare, Hunting & Fishing, Painting, Laboratory, Plumbing / HVAC / MRO, Food Processing, Cosmetics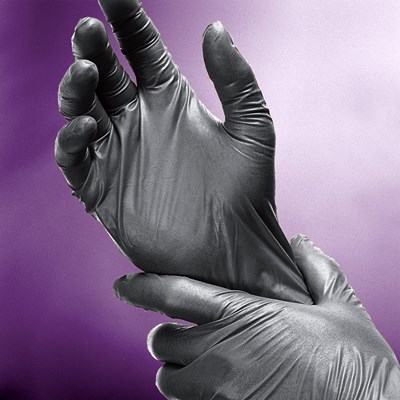 Product Details
| | |
| --- | --- |
| Brand | SHADOW® |
| Color | Black |
| Grade | Exam |
| Certification | CFR Title 21 174 - 178 |
| Glove Length (inches) | 9.40 |
| Glove Thickness, (mil) | 6.00 |
| GTIN UPC | 653195329359 |
| GTIN ITF-14 | 06531953293590 |
| Lot coding | Y |
| Material | Nitrile |
| Powder/Powder Free | Powder Free |
| Size | Medium |
| Sterile | No |
| Count of Inner Packs | 10 |
| Inner Packaging | Box |
| Inner Quantity | 100 |
| Packaging Put/Up | Case |
| Country of Origin | MY |
| Full Product Description | SHADOW® Disposable Nitrile Exam Gloves, Powder Free, Black, 6 mil, Medium, 100/bx, 10 bxs/cs |
| Hazmat / DOT | N |
| HTS CODE | 4015.19.05.50 |
| NMFC | 156600S9 |
| Selling UOM | Case |
| Sell UOM Weight (lbs.) | 14.45 |
| Sell UOM Length (inches) | 14.90 |
| Sell UOM Width (inches) | 10.40 |
| Sell UOM Height (inches) | 9.70 |
| Pallet Ti | 12 |
| Pallet Hi | 9 |
| Qty per Pallet | 108 |
Disposable gloves are an essential for any workplace that needs to maintain hygienic standards. Whether you need to protect your products from contamination or keep yourself and your staff safe, using disposable gloves can provide physical barriers against germs and other contaminants.
Improved Hygiene and Cleanliness.
Disposable gloves provide a physical barrier between individuals and potential contaminants, ensuring improved hygiene and cleanliness in the workplace. By wearing disposable gloves, staff can prevent the spread of infection or germs among customers and colleagues, thus keeping the premises clean. Moreover, if used in product handling, single-use gloves ensure that items will remain free from any contamination.
Increased Safety for Employees.
Disposable gloves can also be important for worker safety, as they provide a layer of protection when handling potentially hazardous materials. The use of gloves can help to reduce the risk of contracting illnesses and diseases due to contact with unsanitary surfaces or products, while also providing protection against cuts and abrasions. By wearing gloves, workers can perform their job in a cleaner and safer environment.
Enhanced Product Quality by Reducing Cross-Contamination in Manufacturing Processes.
By using disposable gloves while manufacturing and handling products, companies can help to reduce the risk of cross-contamination between products. This is especially important in industries such as the food industry, where contamination can lead to severe health problems. Using gloves will also ensure that workers' hands do not come into contact with hazardous materials or germs which could affect the quality of products and lead to recalls due to contamination.