What Is A Specialty Fastener?
A specialty fastener is a type of fastener for a specific purpose or application. Specialty fasteners use various materials, including metals, plastics, and composites.
Most often, you'll find these in applications where conventional fasteners would not provide the required level of performance or function. In addition, specialty fasteners are standard in critical applications where safety and reliability are paramount.
Assemblies
Cold Heading
Electronic Hardware
Molded Parts
Nuts
Screw Machine
Stamping
Weld Products
Wireforms
Companies often design specialty fasteners as part of a production process using internal specifications. These components are integral to the company's competitive edge. That's why precisely manufactured fasteners are always in demand.
Some common examples of specialty fasteners include:
Shear Pins – Shear pins are designed to fail under a specific amount of force, typically shearing cleanly at a predetermined point.
That's why people use them as a safety device in applications where you must disengage a mechanical component in the event of an overload.
Torsion Springs – Torsion springs store and release energy through torque. They are helpful for applications such as door hinges and clothespins.
Belleville Washers – Belleville washers are conical-shaped springs that apply a preload to a fastener. They find use in high-temperature and high-pressure applications where conventional spring materials are unsuitable.
Belleville washers are conical-shaped springs for applying a preload to a fastener. They are common in high-temperature and high-pressure applications where conventional spring materials would not be suitable.
Lock Washers – Lock washers prevent a fastener from loosening due to vibration or thermal cycling. They typically have a tooth or serrated surface that bites into the mating surface, preventing it from rotating.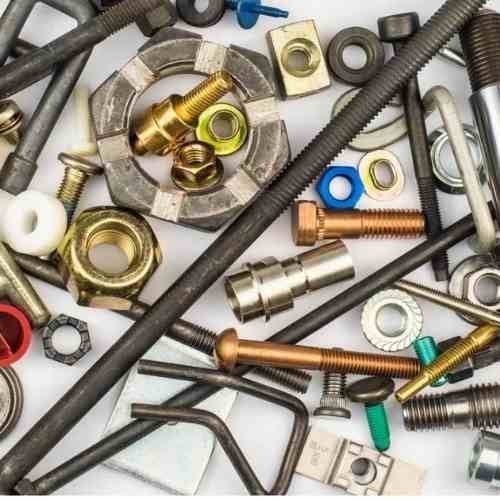 Specialty fasteners are specific products that securely attach various materials, including metals, plastics, and composites.
Most often, you'll find these in applications where conventional fasteners would not provide the required level of performance or function. In addition, specialty fasteners are standard in critical applications where safety and reliability are paramount.
Assemblies – Kitting assemblies make fastener production better.
Cold Heading – Discover how this process helps companies save money and increase production.
Nuts – You might be surprised at the massive variety of nuts available, depending on your requirements.
Screw Machine – These reliable machines help us produce screws that lead the industry in quality.
Stamping -Large or short runs keep stamped shapes coming.
There are many different types of specialty fasteners, each designed for a specific purpose. Some common types of specialty fasteners include:
Anchors – These handy fasteners secure materials to various surfaces, including concrete and drywall.
Bolts – Bolts connect two or more objects.
Clips – Always helpful; clips secure materials or attach one material to another temporarily or permanently.
Nails – A clasp connects two pieces of wood or other material.
Pins – A fastener connects two objects or holds some material in place.
Rivets – A variety of fasteners for joining two pieces of metal.
Screws – A clasp used to connect two or more items.
Washers – The standard items distribute a load of a threaded fastener, such as a bolt or screw.
Specialty fasteners are available in a variety of materials, including:
Aluminum
Brass
Bronze
Carbon Steel
Copper
Inconel
Monel
Nickel Alloy
Stainless Steel
Titanium
Each material type has unique properties that make it suitable for specific applications. For example, stainless steel is an excellent choice for applications with essential corrosion resistance. Titanium is another popular choice due to its strength-to-weight ratio. The material and design determine how well bolts hold up to daily use.
When selecting a specialty fastener, it's essential to consider the specific application and the required level of performance. Specialty fasteners are available in a wide range of sizes, styles, and materials, so there's sure to be a perfect fit for your needs.
The main criteria are always to use a fastener that explicitly addresses your application needs. That means it's worth creating an entire checklist that describes essential requirements for your project.
Invite your team to brainstorm and come up with the qualities that matter most for project success. Then, with an ideal design in mind, turn your ideas into drawings and specifications. With those, you can realize your vision with custom fasteners. We're happy to consult with customers to ensure they always get the optimal parts.
Deciding On Your Specialty Fastener
The material and design determine the capability of specialty fasteners. Therefore, it's generally easier to start with your application in mind to outline crucial requirements for the ones you plan on using. For example, if you're using extreme temperatures, you'll have one set of options; if you need incredible strength, you'll pick from others.
Customers have a broad range of materials to choose from, ensuring that a quality option exists for every type of fastener and application. When you can't find an ideal one, you may always order custom fasteners that meet all your exact specifications. So why take chances when connecting parts? Always use the best nut, bolt, or pin for the job and deliver durable final products.
Custom Assemblies Available
Blue Chip Engineered Products creates custom assemblies based on our customer's specifications and drawings. That's a massive advantage because it helps them reduce all their in-place costs.
Our team goes further, providing much-needed logistical support to our client base. That includes all aspects of taking orders, picking, packing, and even shipping! So you're never out of the loop, and we do our best to ensure the smoothest experience possible.
It's safe to say that businesses can acquire nearly every fastener imaginable. As a result, manufacturing needs continue to evolve, and the utility of these items grows alongside. With almost four decades in business, be sure that BCEPI has enough experience to help your business with any fastener needs!
Cold Forming Is Always An Option
Cold heading forming is a practical way to save money while getting the specialty fasteners your company needs.
You may want to consider cold forming for specialty fasteners. The process of cold heading forming has numerous benefits. Here are a few crucial things to consider before making your final decision.
Specialty fasteners are not produced in the same high volumes as standard fasteners and often have unique or specific requirements. For example, a specialty fastener might be a non-standard size or made from a particular material.
You might need to use a specialty fastener for several practical reasons. For example, maybe you're working on a one-off project, or perhaps you need one that can withstand extreme conditions. If you need a specialty fastener, you'll need to find a reliable supplier.
One option you have is to cold form the specialty fasteners. Cold forming is the process of producing pins at low temperatures. This method has several advantages over other forming techniques, such as machining or stamping.
Cold forming is more precise than other methods, which results in less waste and fewer rejects. In addition, cold forming creates complex shapes that would be difficult or impossible to produce with other methods.
Cold forming should be on the top of your list if you're looking for ways to improve your processes. It's a proven method for creating high-quality fasteners with numerous advantages.
Weld Products
Weld products are also available for custom specifications and orders. In addition, the Blue Chip Engineered Products team can help if your company has specific requirements.
We offer weld products in Stainless Steel or Standard finishes. In addition, they're available in Metric or Standard sizes, and we'll manufacture them using your custom drawings or specifications. So, whether you need CD Studs, Stored Arc Studs, Weld Nut Plates, Piloted Weld Nuts, Non-Piloted Weld Nuts, Weld Pins, Weld Screws, Cinch Staking Screws, Knurled Staking Screws, and Stamped Weld Nuts, are all ready for custom production. Browse our online catalogs and let us know if you don't find something you need.
Weld fasteners help keep your production processes safer for employees. If you ever have questions about our weld products, an experienced team member would be happy to assist. We understand you need to get things right.
Build Your Dream Fasteners
As you probably are guessing, there are few limits to ordering specialty fasteners. A company can produce any idea precisely as you wish if you want it. That's crucial for many businesses who differentiate themselves from competitors based on high-quality, proprietary manufacturing processes.
Our specialty fasteners are integral in various sectors, including automobile manufacturing and distribution, construction, machine tooling and repairs, mining and aggregate extraction, transportation equipment maintenance and repair, and others. Companies may use threaded fasteners to connect machine parts, install equipment, and more. They are also helpful for routine maintenance and inspections since they are removable.
Standard and speciality bolts and fasteners are available to fulfill various requirements. No matter what you need, we'll do our best to source products. Our team has helped customers since 1984, and we continue to grow.
That's due to our dedication to customer service, before and after-sales. We're ready to solve all your specialty fastener sourcing and inventory issues.