TaskBrand® V40 DRC Interfold Wiper
DRC is the leading all-purpose disposable wiper

Heavy duty, low lint

Highly absorbent, wipe-dry

Unique stretch with cloth-like feel

These wipers are made of 35% avg. post- industrial recycled fibers, making up a minimum 85% of the total product weight

Applications: glass & mirror, cleaning equipment/tools/parts, staining, wiping up oil/grease/water, general purpose surface & hand cleaning, janitorial & facility maintenance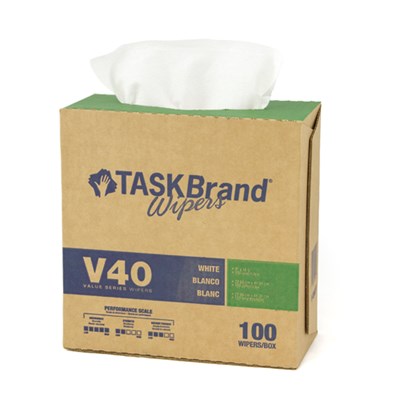 Product Details
| | |
| --- | --- |
| Brand | TaskBrand® |
| Color | White |
| Grade | V40 Value Series |
| Certification | 21 CFR 175.105; 21 CFR 176.170; 21 CFR 176.180 |
| Chemical Resistant | No |
| Green (Eco Friendly) | Yes |
| GTIN UPC | 075289551406 |
| GTIN ITF-14 | 10075289551403 |
| Lot coding | Yes |
| Type | Dry |
| Material | DRC |
| Material Weight | 14.56 |
| Is Private Label Available | Yes |
| Size | 9" x 16.5" |
| Sterile | No |
| Count of Inner Packs | 9 |
| Inner Packaging | Dispenser Box |
| Inner Quantity | 100 |
| Packaging Put/Up | 100/bx, 9 bxs/cs |
| Country of Origin | US |
| Full Product Description | TaskBrand® V40 Value Series DRC Wiper, Heavy Duty, White, 9"x16.5", Interfold, 100/bx, 9 bxs/cs |
| Hazmat / DOT | N |
| HTS CODE | 5603.11.00.90 |
| NMFC | 149080S3 |
| Selling UOM | Case |
| Sell UOM Weight (lbs.) | 20.25 |
| Sell UOM Length (inches) | 30.80 |
| Sell UOM Width (inches) | 14.70 |
| Sell UOM Height (inches) | 10.80 |
| Pallet Ti | 4 |
| Pallet Hi | 8 |
| Qty per Pallet | 32 |
TaskBrand® P60 Hydrospun Interfold Wiper
Features
Hydrospun is one of the most versatile nonwoven materials

Durable, cloth-like feel

Medium duty, low lint

Absorbent, excellent wipe dry

Resistant to many solvents

Meets FDA 21 CFR 176.170 and 21 CFR 176.180 for use in food processing

Applications: lubricants, glass & mirror cleaning, general hand wiping, cleaning parts & tools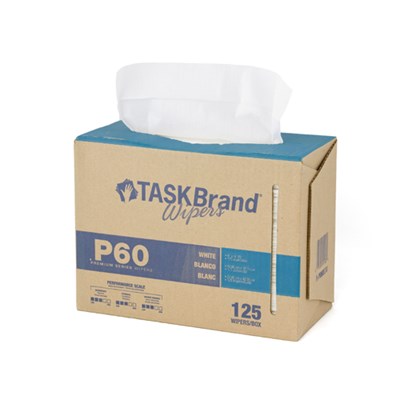 Product Details
| | |
| --- | --- |
| SKU | N-P060IDW |
| Brand | TaskBrand® |
| Color | White |
| Grade | P60 Premium Series |
| Certification | 21 CFR 176.170; 21 CFR 176.180 |
| Construction | Embossed |
| Chemical Resistant | No |
| GTIN UPC | 075289551482 |
| GTIN ITF-14 | 10075289551489 |
| Lot coding | Yes |
| Type | Dry |
| Material | Hydrospun |
| Is Private Label Available | Yes |
| Size | 9" x 16.75" |
| Sterile | No |
| Count of Inner Packs | 10 |
| Inner Packaging | Dispenser Box |
| Inner Quantity | 125 |
| Packaging Put/Up | 125/bx, 10 bxs/cs |
| Country of Origin | CN |
| Full Product Description | TaskBrand® P60 Premium Series Hydrospun Wiper, Medium Duty, White, 9"x16.75", Interfold, 125/bx, 10 bxs/cs |
| Hazmat / DOT | N |
| HTS CODE | 5603.92.00.90 |
| NMFC | 049390S5 |
| Selling UOM | Case |
| Sell UOM Weight (lbs.) | 18.45 |
| Sell UOM Length (inches) | 24.20 |
| Sell UOM Width (inches) | 11.10 |
| Sell UOM Height (inches) | 16.70 |
| Pallet Ti | 8 |
| Pallet Hi | 5 |
| Qty per Pallet | 40 |
TaskBrand® P80 Hydrospun Interfold Wiper
Features
Hydrospun is one of the most versatile nonwoven materials

Very durable, cloth-like feel

Excellent alternative to shop towels

Premium duty, low lint

Absorbent, excellent wipe dry

Resistant to most solvents

Meets FDA 21 CFR 176.170 and 21 CFR 176.180 for use in food processing

Applications: rough surfaces & wiping/removing metal shavings, heavy grease & oil, cleaning equipment & tools, solvent application, great alternative to shop towels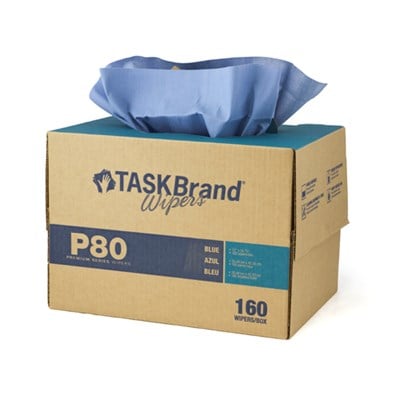 Product Details
| | |
| --- | --- |
| SKU | N-P080ITB |
| Brand | TaskBrand® |
| Color | Blue |
| Grade | P80 Premium Series |
| Certification | 21 CFR 176.170; 21 CFR 176.180 |
| Construction | Embossed |
| Chemical Resistant | No |
| GTIN UPC | 075289551567 |
| GTIN ITF-14 | 10075289551564 |
| Lot coding | Yes |
| Type | Dry |
| Material | Hydrospun |
| Is Private Label Available | No |
| Size | 12" x 16.75" |
| Sterile | No |
| Packaging Put/Up | 160/TwinTote® |
| Country of Origin | CN |
| Full Product Description | TaskBrand® P80 Premium Series Hydrospun Wiper, Premium Duty, Blue, 12"x16.75", Interfold, 160/TwinTote® |
| Hazmat / DOT | N |
| HTS CODE | 5603.93.00.90 |
| NMFC | 049390S8 |
| Selling UOM | Case |
| Sell UOM Weight (lbs.) | 5.25 |
| Sell UOM Length (inches) | 13.50 |
| Sell UOM Width (inches) | 9.60 |
| Sell UOM Height (inches) | 9.30 |
| Pallet Ti | 15 |
| Pallet Hi | 10 |
| Qty per Pallet | 150 |
Understand Your Requirements.
Before selecting a wiping solution for your business, you need to understand the specific requirements that must be met. This includes both the technical and non-technical features of the solution, as well as its scope and purpose. Knowing what you need from the solution allows you to better select one that will meet those needs and serve your business's interests best.
Choose the Best Tools for Wiping Solution.
It's important to select the right tools for your wiping solution. This includes software and hardware components, as well as procedures and protocols that must be followed. Be sure to research the available options thoroughly and choose those that will give you the best results. Additionally, make sure that you properly train employees on how to use those tools for maximum efficiency and accuracy.
Implement Appropriate Processes for Maintenance and Monitoring
Implementing processes to regularly maintain and monitor wiping solutions is key in keeping them running smoothly. Utilizing a combination of automation and manual procedures can help you detect any areas that need improvement, allowing you to make adjustments as needed. Regular checks for hardware and software updates, along with regular tune-ups and software patches, are essential for ensuring your wiping solution runs without issue.
Ensure System Security Through Access Control and Logging.
Ensure that only authorized personnel have access to the wiping solution by implementing Access Control settings and processes. Proper logging methods should also be in place to monitor any changes made, helping you track any unauthorized activities and errors within the system. Having a reliable logging method can be invaluable for detecting potential risks or issues down the line, as well as for isolating areas of concern and developing solutions to proactively address them before they become more serious.