Diameters from .016 to 1.00"

Tight dimension tolerances

High speed and repeatability

Infinite feed lengths

Threaded-Standard, Metric, Acme, Rolled, Cut

Headed-Tapered Points, Collars, Rounds

Pierced & Coined-All Shapes & Sizes

In-process Staking, Stamping, Chamfering Undercutting, Threading
Advantages to Our Wire Forms
CNC – Four Slide – Press Forming

Bent-Custom Bending to Print Specifications

Materials: Steel, Stainless Steel, Brass, Aluminum, Spring Steels, Alloys

Other Processes include Cadmium Plate, Zinc or Zinc and Yellow Chromate Plate, Galvanize, Heat Treat & Powder Coat

Standard Wire Fasteners include Cotter Pins, Hitch Pin Clips, Spring Pins, S-Hooks, D-Rings, Key Rings and Clips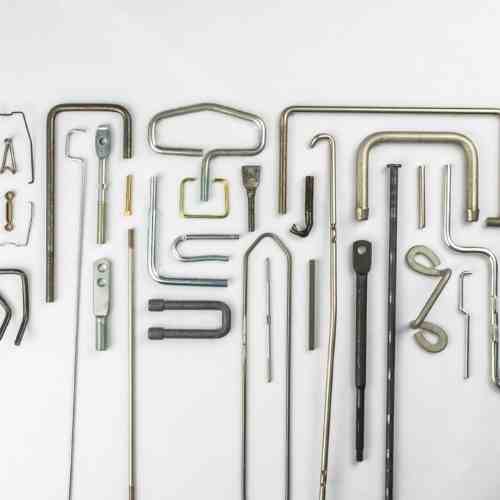 What is a Wire Form?
Wire forming is achieved by applying force to change the contour of wire by bending, swaging, piercing, chamfering, shearing, or other methods. The various methods for wire forming can produce any type of shape, form, or configuration. The process starts with coiled wire that is straightened before being formed.
Typical metals used for wire forming include steel, brass, stainless steel, copper, aluminum, and a variety of other alloys. The diameters of wires vary from 0.5 mm to 25mm, or .015" to 1.00".
The types of equipment utilized to manufacture wire forms vary between manual to advanced CNC programmable machines and automated presses. Many wire forms are processed with platings and other coatings to protect from corrosion.
Solve, Source, Schedule
Over the past year's manufacturers have realized that "soft costs" related to sourcing parts, purchasing, expediting, receiving, stocking and paying for inventory to be used in production, many times exceeded the value of the goods associated with them.
Blue Chip's
Solve, Source, Schedule
approach to inventory management systems has helped reduce these costs for our customers and has given them more time to focus on other company goals & objectives.
Realizing every customer's needs are different, Blue Chip utilizes a detailed step-by-step plan to address every department's concerns to offer the most cost-effective solutions.
Building Relationships. Solving Problems. Providing Solutions.
Our highly skilled team of fastener professionals have been doing that for over 37 years.
We solve your sourcing and inventory problems.
Our service after the sale is why our customer base has consistently grown since 1984.
Bring us your problems and we will provide solutions.