Vendor Managed Inventory and Supply Chain Issues
One thing that nearly everyone can say about life since 2020 is that it has been unpredictable. The pandemic altered the way that people live and work, and it also profoundly impacted supply chains all over the world. As a result, sadly, many businesses closed their doors, while others struggled to meet customer demand. It was a rude awakening for consumers who never thought about where everything from clothing items and food to everyday essentials like toilet paper originated. Moreover, it highlighted just how vulnerable supply chains could be to disruptions.
But what exactly is a supply chain? And what are some of the most common issues that can disrupt it?
A supply chain is a network of suppliers and manufacturers working to produce and deliver consumer goods or services. The chain includes everything from raw materials to the finished product, and each link in the chain depends on the other to function correctly.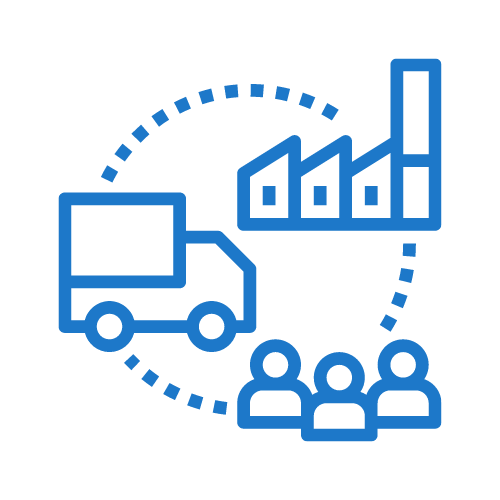 The pandemic was a perfect example of how even a minor disruption can cause significant problems throughout the supply chain. When factories and other businesses shut down or slowed down, it created a domino effect that impacted every link in the chain. The domino effect resulted in shortages of essential goods and higher consumer prices.
One way to help forecast, prevent or mitigate supply chain disruptions is through vendor-managed inventory or VMI.
What Is VMI?
VMI is a system where a supplier manages the inventory levels of the products they provide to the customer. VMI's components include forecasting future demand and ensuring enough stock on hand to meet customer needs. The supplier is also responsible for reordering stock when necessary and informing our customer when we notice unusual usage patterns that could affect production schedules.
VMI applies to many different companies and suppliers but is common in industries where products have a long shelf life or are of high value. These industries could include paper products, food and beverage, pharmaceuticals, and automotive parts.
Regardless of demand, VMI always keeps a certain amount of inventory on hand. Knowing what stock is available reassures the customer that they will never run out of stock, and it helps to ensure that the supplier can meet their needs, giving our customers peace of mind they will have a continuous flow of inventory.
The Advantages of VMI
There are many advantages to using VMI, both for the customer and the supplier.
Some of the advantages for the customer include:
Reduced Need for Storage Space:

Customers don't need to worry about storing excess inventory because the supplier will take care of it.

Increased Flexibility:

Customers can make last-minute changes to their orders without impacting the supplier's production schedule.

Lower Costs

: Customers don't have to bear the brunt of the inventory carrying costs, as the supplier typically shoulders these.
Some of the advantages for the supplier include:
Increased Accuracy:

Suppliers can more accurately forecast customer demand and plan their production accordingly.

Improved Relationships:

VMI helps to build trust and transparency between the supplier and customer.

Lower Costs:

Suppliers can avoid the cost of stock outs and excess inventory by managing the stock.
VMI can be a win-win for the customer and supplier, when utilized to its full potential.
Detect Unusual Demand Changes and Take Action
One of the most significant advantages of VMI is the ability to detect unusual demand changes and take action accordingly. This flexibility is essential in an era when unprecedented changes come quickly.
Let's say a customer typically orders 500 components per month. However, due to the pandemic, they suddenly increase their order to 1,000 components per month. The supplier, using VMI, would be able to detect this change and take action to ensure customers' needs are met. Ways to do so could include appropriate inventory levels and the ability to increase production rapidly or explore alternate channels to reduce lead times.
This quick reaction is essential in today's climate, where we see unprecedented fluctuations in today's economic climate.
VMI Can Help to Mitigate Supply Chain Disruptions
As we've seen, supply chain disruptions can have a significant impact on businesses and consumers alike. VMI can help to mitigate these disruptions by giving the supplier more visibility into customer demand and trends. In turn, it helps the supplier make better production, inventory, and logistical decisions.
The Bottom Line
The supply chain is the foundation of every business, so it is crucial to keep it running smoothly and efficiently.
VMI is just one tool companies can use to help mitigate supply chain disruptions. Other tools include supply chain mapping, supplier diversity, and just-in-time delivery. By utilizing these tools, businesses can build a more resilient supply chain better equipped to handle unexpected disruptions.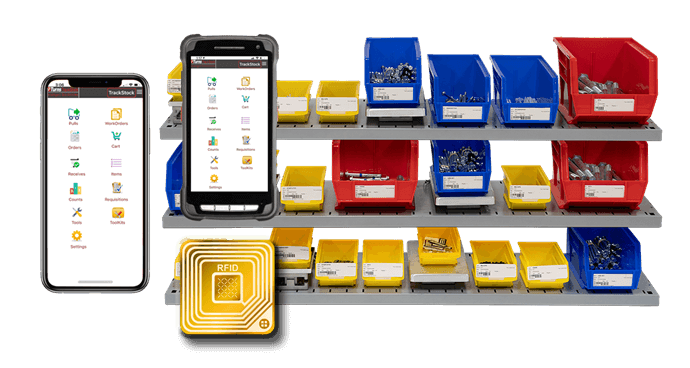 Blue Chip's Solve, Source, and Schedule Approach
The Solve, Source, Schedule Management Systems is a service help our customer reduce the total cost of procuring fasteners and other assembly components. Blue Chip assumes full or partial responsibility of managing the procurement, and inventory of the fasteners and other related hardware items.
Solve
We are committed to providing solutions and value added services to our customers. Developing a partnership between Blue Chip and your Purchasing, Engineering, and Quality teams allow us to explore all options for your application, and helps to reduce your time to market and minimize costs. Our advanced planning and thorough analysis of assembly methods, logistics, and inventory systems ensure a quality product, improving efficiency, and offering the most cost effective solutions.
Source
Whether your product calls for a special cold headed fastener or a complex assembly, Blue Chip has the resources to provide a diverse variety of products. Achieving our ISO 9001: 2015 accreditation has helped propel us to new level that produces the best results in quality, response and value. Blue Chip can aid in sourcing difficult and unusual parts, which can be time consuming. Sourcing a wider variety of products Blue Chip Engineered Products will all our customers to reduce its overall vendor base.
Schedule

Whether you have single or multiple locations you tell us where, when and how and we will make it happen. We diligently control the entire process from the time of your order, throughout manufacturing, to the flexible scheduling of releases. We understand the high costs associated in the procurement of your products. Our goal is to reduce your time spent on logistics and your investment in inventory, helping you enhance your company's profitability.
Electronic Hardware is commonly found in electronic devices such as circuit breakers, switch boards, electrical enclosures, cell phones, medical equipment and much more. As you can imagine, electronics are high in demand and are in constant production. With a Vendor Managed Inventory System this keeps your products in production while never running out of pieces or parts.
The Medical field relies on quality, long lasting components. Knowing that some materials are critical in nature and are made of special materials, it's necessary to control them in a VMI environment for lot control, and secured inventory. With a VMI System, you can have the peace of mind that your components are being taken care of and available when needed.
Assemblies can often feel overwhelming for some, having to deal with logistical support, and putting your assembly together. Utilizing Blue Chip to provide your mechanical or sub-assemblies, frees up your internal resources that can be used in other areas in production. By levering BCEPI's expertise in multiple assembly methods offer cost savings in materials and labor. Our capability to source and supply individual components provides additional monetary savings.
Fasteners are used in many agricultural applications, such as tractors, mowers, trailers and plows. We would employ a data-driven VMI approach that would ensure efficiency and lower cost.
VMI increases productivity and efficiency. This is helpful for conveyor systems because they are constantly running and could break down where they would need parts immediately to keep production running.
Lighting is critical for nearly every application, from residential to commercial, public, and industrial settings. And with the growing trend toward energy-efficient lighting, the demand for lamps and light fixtures will only likely increase in the coming years. A VMI System in place can prepare you for the growing demand.
From pop rivets, to rivet-nuts, and sheet metal screws. Blue Chip carries a vast amount of inventory to support the metal fabricating industry. VMI can help ensure you are ahead of game by reducing supply chain costs, and increasing service levels.
With recent emphasis on light weighting, plastics are a go-to for appliance, electronics, automotive and many other industries. Rotation molding, injection molding, thermo-forms all use multiple types of components. Ranging from compression limiters, inserts, and plastic thread forming screws, in many types of sizes and configurations. VMI is great tool to manage and simplify multiples SKUs.
Solar & Wind energy is a steadfast growing industry. Much like the lighting industry, a Vendor Managed Inventory system can keep you ahead of the demand and keep your growing business running smoothly.
Many Steel Stamping companies require fasteners that are fed in automatic assembly systems, which require consistent dimensional attributes. That's just one reason to go with Blue Chip. We will take the hassle out of making sure those everyday pieces and parts are available for constant production.
With the fluctuations in the lawn and garden industry it is important to ensure the proper amounts of components are available when needed. VMI plays an important role supplying peace of mind so that you have constant production of parts, as well as cost savings and a more stable supply chain.
Our vast resources of brass, copper, and stainless steel inventory makes Blue Chip your go-to source for standard and special components for plumbing fixture manufacturers. Having these multiple parts managed by our VMI systems helps to improve total in-place costs and improves productivity.