What Is Cold Heading For Fasteners?
It's worth discussing cold heading and how the production process may be proper for you.
Cold Forming uses force to create significant material movement, which forms shapes. The process saves money over alternative methods because it substantially reduces scrap rates.
By using large head-to-shank ratios, unique shapes are producible. The final products have excellent reliability and strength, thanks to uninterrupted grain flow. In addition, you can manufacture at rates much faster, resulting in NET or Near Net Shape. That means you won't have to rely nearly as heavily on secondary operations to finish your process.
Cold Forming Is Ideal for Multi-Piece Assemblies
Cold forming empowers manufacturers to convert multi-piece assemblies produced as single-piece components. That alone eliminates the welding and assembly stages.
Customers who combine cold forming with their secondary operations can produce complicated parts with the tightest tolerances. Which is a significant step reducing overall expense of the part.
What is Cold Heading, and Why is it Important?
Cold heading is a manufacturing process in which non-heated metal blanks are used to form fasteners. The process can be performed on various materials but is often associated with metals such as carbon steel, brass, aluminum, and stainless steels.
Cold heading has several advantages over other methods of forming metal parts. Cold heading typically requires less energy than hot forging and can be used to create pieces with more intricate shapes. Cold heading also produces parts that are stronger and more precise and produced at a higher rate of speed than those made with other methods.
The cold heading process uses various machines, but all have three main components: a die, a punch, and a blank holder.
The die is a negative image of the desired piece made from hardened tool steel.
The punch is a positive image of the desired part derived from hardened tool steel.
The blank holder holds the metal blank in place during the cold heading process. As a result, the machines can produce large volume outputs and make durable final products.
Cold Heading Fasteners: What Are They and Why Are They Useful?
How do cold heading fasteners help my business?
In short, manufacturing fasteners from a cold workpiece brings many benefits.
There are several incredible advantages to using cold heading machines over other methods such as hot forging or machining:
● Higher production rates
● Improved consistency and accuracy
● Less scrap material
● A more comprehensive range of shapes and sizes
Many benefits of using cold heading fasteners over other methods exist, but the most significant is the increased production rate. Cold heading machines can produce large quantities of bolts very quickly and with great accuracy, especially for businesses that require a lot of fasteners regularly. Small mistakes that add up during a production run are costly, so improving accuracy is beneficial.
Another significant benefit of cold heading fasteners is that they generate less scrap material than other manufacturing methods. That's because the process doesn't involve cutting or machining the workpiece, so there is very little waste. You can probably easily imagine how this fact would help you save on the by-products of production.
Finally, cold heading machines can create a wide range of shapes and sizes, so you're sure to find the perfect fastener for your needs. Whether you need small bolts or large screws, a cold heading machine can create them quickly and easily.
Considering new products for your assemblies? Cold headed fasteners are a great option. They can save you time and money thanks to their high production rates, consistent quality, and low scrap rates. So, if you're in the market for reliable, high-quality fasteners, consider ones from cold heading machines.
Advantages To Cold Forming
Cold heading reduces material costs by over fifty percent. That happens primarily by reducing scrap by switching from screw machining.
Production costs are lower overall because of the high-speed manufacturing process, which can output between fifty to two hundred fifty pieces every minute.
The final primary benefit is that cold heading also reduces secondary operations such as shaving, brazing, and machining, which are screw machining requirements.
There's no need for secondary finishing because the surface from cold heading is much smoother than the ones from screw machining.
Cold heading also improved the product performance because of grain structure rearrangement and a boost in strength. Screw machining products, on the other hand, are weaker, which could introduce earlier failure points.
When you add up all these incredible benefits, it's easy to see why more companies are choosing cold heading for fasteners. Increased strength with maintained grain flow. Improving quality will always be a significant selling point for this process.
Big Savings Are Possible
Since companies can now produce multiple pieces as one unified component, they experience a substantial cost reduction for labor, parts, tolerance issues, inventory coordination, and inspection. Those benefits alone would be enough to excite many people. Still, when you add in the improved final product performance, it's impossible to argue that cold heading plays a significant role in fastener manufacturing.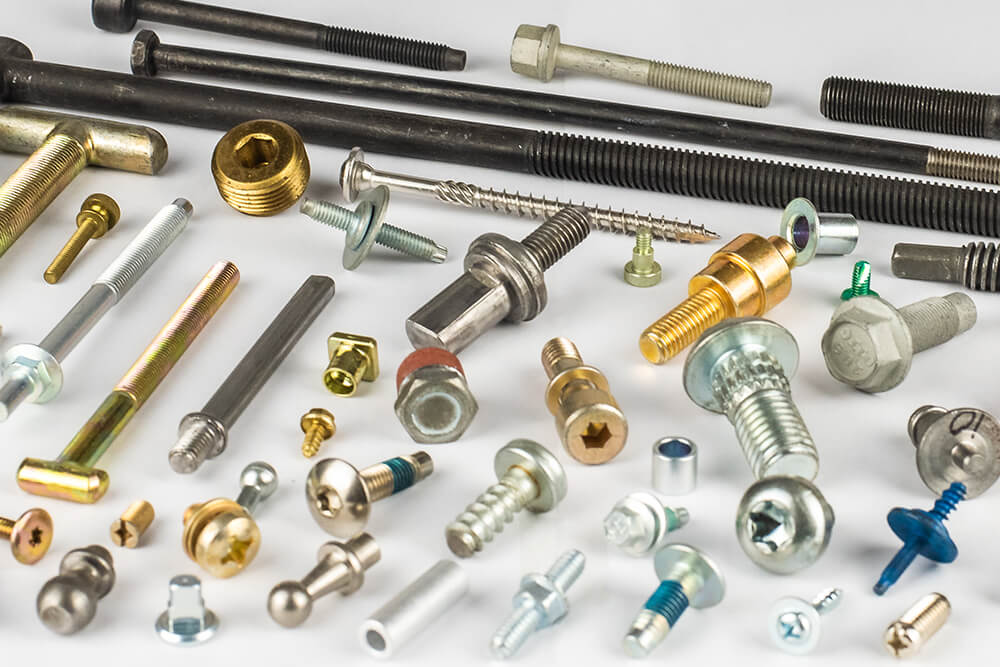 Your Choice of Cold Heading Materials
You have an extensive range of options for the material you choose for cold heading, including the following:
● Aerospace Alloys
● Alloy Steels
● Aluminum
● Brass
● Bronze
● Copper
● Carbon Steels (Including Boron)
● Magnetic And Non-Magnetic Stainless Steel
● Nickel Alloys
Each metal has unique properties that give fasteners their functionality. You will choose the most appropriate metal for the cold heading process depending on your precise needs. With so many choices, cold heading fasteners are possible for nearly every industry and application.
Our Team Is Ready To Help!
Blue Chip Engineered Products has nearly four decades of experience working with companies sourcing optimal specialty fasteners.
Our philosophy is that we're here to solve people's problems when they source fasteners. High-quality nuts and bolts keep the industry humming! When you need durable specialty fasteners, contact us.
We have experience in numerous industries, including the following.
● Assembly
● Lighting
● Plastics
● Plumbing
As you can see, there are very few industries, materials, and production processes we're unfamiliar with from direct experience. Working with many quality companies across these sectors has taught our team everything they need to know about sourcing the best specialty fasteners for our customers.
Warehouse Kitting Available
Please request a quote from our experienced team and find out why BCEPI is the go-to solution for fasteners. No matter what your requirements are, we deliver. Utilizing our automated packaging equipment, our team builds hardware kits from either single or multiple parts. The package can have whatever you like, including barcodes, data matrix codes, description of contents, and company logos.
Further, we can insert instruction sheets if required. If you need custom designs and packaging, we can help. We handle all the inventory management and coordinate shipping. Contact us for a quote if you only need a few or many kits. We stock thousands of completed kits for customers and look forward to working with your company. Our number one priority has remained the same since our founding in 1984: to solve customer problems!
Kitting is one of our specialties, and we can provide many other competitive services. Interested in more details regarding kitting and packaging, contact us today.
Certified Quality
Blue Chip is your answer when you need a cold headed fastener supplier who understands quality. We're certified to IS0 9001:2015. Let us know your quality requirements, and we'll meet them utilizing our streamlined systems and computerized lot control. We can provide Chemical, Physical, and Mechanical certifications. We're ready to meet your requirements and prove our certification with accredited lab testing.
If you require the following, we can help.
● First Article Inspection
● NAFTA Certificates and HTS Codes
● Certificates Of Conformance
● Country Of Origin Affidavits
● PPAP
We know that certification is crucial for many companies, so we maintain our dedication to compliance and testing.
We will always continue to achieve our precise and demanding goals. That means one hundred percent on-time delivery, perfect customer satisfaction, and quality part. These ambitious objectives have made us popular with our customers, who expect the best. We understand that service begins before the sale and continues long after. We're confident our team will delight you with their efforts.
We're confident our cold heading products can provide extreme benefits to your company's assemblies.