Kitting and Packaging for Fasteners
Anyone who has tried to put together a piece of furniture from IKEA can attest that having all the right parts is essential for a successful assembly. The same is true when it comes to fasteners.
Having all the necessary bolts, screws, nails, and other hardware before starting is critical to ensure the assembly project goes smoothly. Kitting and packaging have a lot to do with this.
A Solution For Your Application
Kitting and packaging refer to placing all the required components for a project in one place. This process can be as simple as putting all the screws for a piece of furniture in a zip-top baggie or as complex as creating a custom kit with multiple fasteners sorted by size and type. By preparing ahead of time, kitting and packaging can save valuable time during assembly and manufacturing. In addition, it can help to avoid frustrating delays caused by missing or incorrect parts.
Blue Chip Engineered Products is a leading provider of kitting and packaging for fasteners and other components, with nearly four decades of experience. Our packaging equipment enables us to package hardware kits that contain single or multiple components.
Our advanced poly bagger automates the packaging process for fasteners of all sizes. In addition, our inline thermal transfer printer accurately prints, company logos, barcodes, data matrix codes and labels for each kit. These two pieces of equipment seamlessly work together to create an efficient and accurate kitting and packaging process.
Rely On Us For Inventory Management
The warehouse team accurately produces kits and manages kits for scheduled delivery. In addition to kit assembly, Blue Chip has the capabilities to customize kits that contain part numbers, UPC barcodes, and labels. Whether you require 200 or 200,000 kits, we can help with an end-to-end inventory and management system.
We recognize kitting and packaging are integral to the fastener and manufacturing industry. Blue Chip Engineered Products is a leading provider of kitting and packaging with nearly four decades of experience.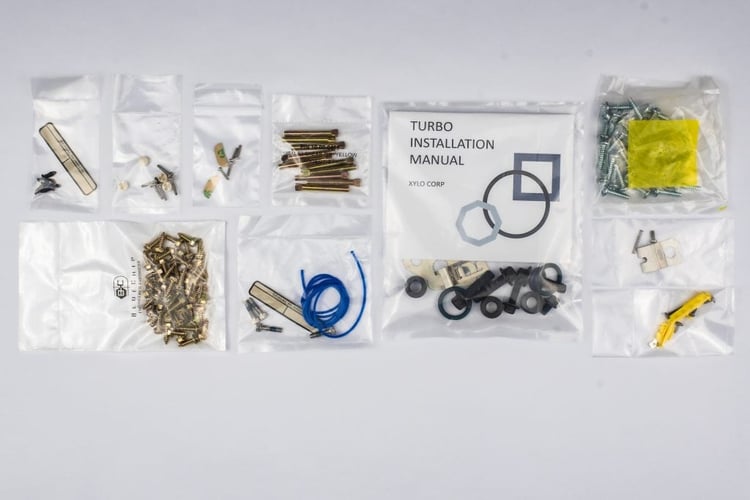 What Is Kitting And Packaging For Fasteners?
There are many different ways to kit and package fasteners, and the method used will often depend on the type of fastener to package, the quantity selected for packing, and the intended use for the kit. For example, some companies may sell items that require to be individually packaged.
Others may require kits containing a specific number of each type of fastener needed for a particular project. Still, others may sell pre-packaged kits containing all the items required for a particular application and instruction sheets.
No matter what method, kitting and packaging for fasteners requires a careful process that ensures that the components are secure from damage and that the customer or distributor receives the correct quantities.
Why Is Kitting And Packaging For Fasteners Important?
In many cases, fasteners' kitting and packaging can also help save time and money by making it easier for customers to find and purchase the components they need.
We break down the bulk components to meet our customers required specifications for their individual kits. This saves time, money and frustration knowing that your components are sorted and packaged accurately.
Keep your customers happy with fast and accurate delivery straight from the Blue Chip warehouse.
How Is Kitting And Packaging For Fasteners Done?
Kitting and packaging for fasteners use specialized machines and equipment designed expressly for production. For example, some companies may use kitting machines to sort and package fasteners into kits, while others may use packaging machines to pack fasteners into bulk packages.
Kitting and packaging for fasteners can also be done by hand, although this is typically only done for small quantities. As you might imagine, following a manual process is not nearly efficient or as accurate as using cutting-edge technology and machinery to complete this menial but essential task.
Kitting and packaging machines are utilized for more significant quantities because they ensure accuracy and efficiency.
Types Of Kitting And Packaging For Fasteners
There are many different types of kitting and packaging for fasteners, and the kind needed depends on the needs of the customer. For example, some companies may require poly-bagging, while others may require parts to be put in boxes, or a combination of the two. We do offer boxing, fulfillment, and skin carding.
In any manufacturing process, there are many moving parts - quite literally. Keeping track of all the individual components and ensuring they stay organized can be challenging. That's where Blue Chip pre assembled components, kits and packaging machines come into play. To provide all necessary parts and components needed for your assembly line.
Partner With BCEPI For All Your Kitting And Packaging Needs
Why not streamline your operations? Partnering with a company like BCEPI, you can get assistance to ensure your fasteners are packaged and delivered to meet your needs. We have the experience and knowledge to help you get the most out of your fastener kitting and packaging requirements. Let us show you how we can reduce costs and improve efficiency in your business.